And I'm glad you did.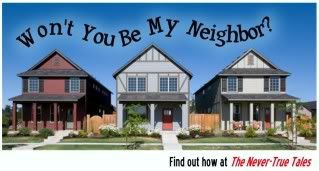 My first vision of
Won't You Be My Neighbor
was for a six-week series. Quite honestly, that was just a number I pulled out of thin air. I scheduled six awesome guests for NTT, and as such, it ended a few weeks ago. In the time since, I've stopped vacuuming and stocking the fridge, and have gotten back into the habit of putting on my oldest sweat pants as soon as I get home in the evening. It's pretty sweet. But many of you still have guests in your blogs, using your towels and dirtying your dishes. Oh my. What
have
I done?
No, no. I'm thrilled that some of you still have guests lined up! And I want to continue to provide a place for us all to gather to read these posts, so I'm going to reinstate the Friday Neighbor linky. (Can you tell I'm flying by the seat of my pants here? Don't answer that.)
If you have neighbors lined up to guest post in your blog, please stop by on Fridays and link up, as usual. (See the Linky below.) If, like me, you don't have a guest for the time being, come by anyway and have a read. And be thinking of some new neighbors to invite, because I'm going to begin my next round of guests at NTT starting on
Friday, April 2nd
and ending Friday, May 7th.
If you would like to be my neighbor during that time period, please give me a shout! I'd love to have you, whether you're a new reader here or have been around through all the awkward growing pains.


Speaking of awkward, I had my first job interview in five years today. The last time I'd sat in that hot seat, I was interviewing at Search and Rescue, was four months pregnant, and was hoping they wouldn't notice. They didn't, but these are the same guys who, one year and one baby later, mistook my breast pump for some sort of new avalanche-beacon-honing-device gadgetry at a mountain preparedness meeting. I didn't blog about that? Oh, I must. Remind me sometime.

But this interview today reminded me of my very first interview out of college, in which I was applying for an editing job on the copy desk of a major newspaper. I had to take a spelling test, which in hindsight, I really should have seen coming. But I didn't, and I spelled avocado wrong. Oh yes, I did. Avacado.

In an interview after that, I actually went to the wrong person's office and hung around there for fifteen minutes before realizing my mistake. Oh, and I was four months pregnant and hoping no one would notice. Does this happen (repeatedly) to no one else?

I actually got that job, but suffice it to say, I don't interview terribly well. This time around, I was not asked to spell anything, I knew who I was interviewing with, and most importantly, I am not pregnant. Can we get a hallelujah? I think it went pretty well, but I'll keep you posted. I know you're on pins and needles.