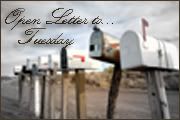 If you have your own Open Letter you're itching to write, snag the button above and attach it to your own post!

Open Letter to my newest readers:

I've had some new subscriptions of late, and want to say welcome! Most of you are probably here to share in the camaraderie of parenthood and read some of my accounts of the baffling mystery that is raising children, growing up (not old!), and navigating the writing world. Perhaps you're even planning to enjoy a chuckle or two at my expense (that's well within the rules). Of course, thanks to automatically generated search tags, I have a nagging suspicion that a few of you may have stumbled upon me while Googling 'Twilight' due to the subject of my latest post, in which case you're probably wandering around here, scrolling through recipes and commentary on preschoolers, wondering where I've hidden all the Eclipse filming news and Pattinson hair style commentary. So sorry to disappoint. (But totally email me…naturally I can point you in the right direction.)

For the rest of you, if I may go over a few safety features of this aircr--oh wait. Wrong spiel. (I can't tell you how much I wish I were on vacation right now.) But I would like to direct your attention to the right-hand side of your screen, where you'll see you can now subscribe to this site via your email address, if you find that more convenient than using a RSS feed. I know I do; I now have all my favorite blogs streamlined directly into gmail, and it's never been easier for me to kill an hour or two I don't have reading great stuff.

Just a bit further down the right column, you'll also find the link button to my travel website, Pitstops for Kids. If you travel with kids and want the experience to be enjoyable instead of a death march in a minivan, I hope you'll consider stopping by for tips and perhaps contributing a review!

If you scroll down and glance to your left, you'll see that you can also follow me on either Facebook or Twitter. I'll always link new posts there as well. I'm still warming up to Twitter; I hate the word count restriction and can't bear to regress to using webspeak. U no what I mean? (See? I'm terrible at it!)

And…drum roll please…for my new and seasoned readers alike, I'm very excited to announce that I'll be writing regularly at several other places on the web.

I've recently become a contributor at Savvy Travel Mom (you can find my bio here). Look for my article on Slide Rock State Park in Arizona later this week!

Also, starting today I will be writing as a bi-weekly contributor to the 'Five Minutes for Going Green' column on the website Five Minutes for Mom. I'll be the new girl amid several respected eco-bloggers, so if you'd care to visit me there from time to time, it would be welcome to see a familiar face! Today I'm talking about recycling…and margarine.

You know you're intrigued.