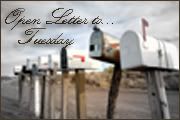 If you have your own Open Letter you're itching to write, snag the button above and attach it to your own post!
Open Letter to Those Who have Asked me if I Twitter:
Yes. Well, I mean,
no.
. I do not currently Twitter. I fully realize, however, that it's only a matter of time. It's an inevitability that hovers at the hazy edges of my consciousness much like my mortality, or my next fund raising committee meeting (
really,
the things I do to bankroll my kids barreling down a snowy slope on skis…can I just donate plasma already?), or the dishes sitting in my sink that will, eventually, demand my attention.
And
why
do I drag my feet concerning all thing Twitter, you ask? Because really, don't you already hear enough out of me? I'm already blathering on
here
, and at
Pitstops for Kids
, and on Facebook, and on Livejournal, and occasionally, when the merits of Matt Seracen's backside in a football uniform rouses me from my general apathy to the point of action, on
Television Without Pity
.
Anyway, the word
overexposed
comes to mind.
Still, I know the future of social networking when I see it. And all my procrastination has already put me behind the curve. So I imagine I'll be on there eventually, at least for Pitstops for Kids.
Sincerely,
The Last Non-Tweeting Holdout
P.S. (to my long-suffering husband): Ease of Twittering would be Reason #452 for buying an iPhone. Just saying.