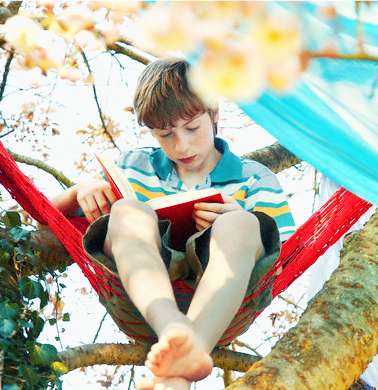 stock banner by sunlitdays
Ahh.
Children. Stretched out in the grass. Reading. In summer. Together.
I ask you: is there a better sight for a life-long reader than to see his or her child equally engrossed in a novel? Ok, there may be a few: the sight of a
sleeping
child, for one. Or a child waving blissfully goodbye from the back of their grandparents' car. But I digress. All I mean to say is, a child curled up on a beach chair or a hammock in summer with his nose in a book is a beautiful thing.
Here's our summer reading list so far:
Nate (age 10):
Harry Potter…all of them, up to Book 6. Remember when they were brand new to you? When you had no idea what would happen next? Lucky boy. We're reading them aloud as a family, and simultaneously, Nate is
back
-reading, starting with Book 1 and moving forward. He's almost caught up to us now (on Book 6).
Calvin (age 8):
How to Rule the School, by Kathryn Lay. Before that, every single Diary of a Wimpy Kid, then Dogs Don't Tell Jokes. I keep biting my tongue, because these are all below his reading level, but hey,
summer reading,
by very definition, permits a lowering of the bar, right?
Toby (age 4):
On a recent Thomas the Tank Engine kick. Also? I Spy picture books. His brothers are determined to teach him how to read this summer. All the more power to them, I say.
Me:
I
should
be reading Philippa Gregory's The Wise Woman for a book club, but with so much going on, I'm running out of time. Maybe I'll finish in time for the
next
book to be announced. Meanwhile, I've been working my way through the complete works of Bill Bryson, in keeping with our travel theme this summer. That man? Is
funny
. I can happily read his accounts of Great Reef shark attacks and dank British boarding houses anyday.
Charlie:
I believe he said he's read
seven
James Patterson novels in a row. What can I say? He knows what he likes.
What are you all reading?