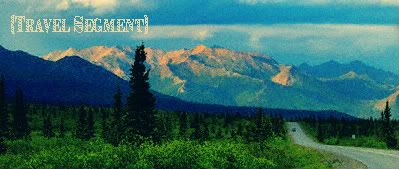 No matter where you go on vacation or how you get there, no matter how well your trip has been planned or how much fun has been had, you eventually have to travel home.

And it's never pretty.

You'd think that after driving a total of 16 hours so far this trip, my kids could handle another 6 in their sleep. If only they would sleep! Right now, Toby is twisting constantly in his seat, jabbing one sticky finger (slick with ring pop residue) at his window control, and Charlie is telling him repeatedly to stop, which is prompting Nate to raise the volume on Fraggle Rock by one decibel every ten seconds. Calvin is sulking because he's stuck in the middle. I can hardly blame him.

We're driving down I-5 somewhere around Eugene, Oregon, and I'm only able to record all this for posterity because I've been ousted from the driver's seat in what was an impressive (and unanimous) display of mutiny. You see, they begged me for a bathroom and drink break some time ago, and I had mumbled something about stopping just past Salem. What? Eugene is past Salem! Only about 60 miles past, is all.

Don't judge me. I just want to be home. Of course, I'm not sure why. The most pressing thing that awaits me is a mountain of laundry.

But I'm getting ahead of myself. A whole day ahead, in fact, because where my last entry left off, the boys were running up and down the halls and stairs of The Great Wolf Lodge* in their quest to achieve Magi Master status in the resort's answer to Harry Potter. It is with much pride that I report their success. Apparently they've slayed the dragon and saved the day.

Which left plenty of time for more waterslides and wave riding.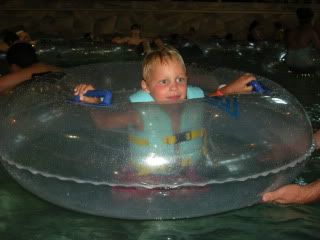 Toby, who was ever determined to surf with an inner tube in the wave pool.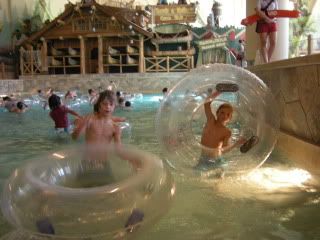 Nate and Cal, taking a break to show me some sort of coordinated tube twirl.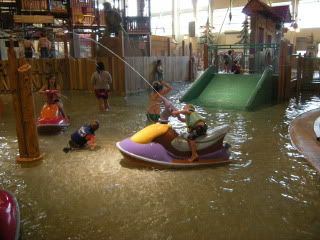 Squirting strangers with jets of water provides hours of entertainment.

Upon the recommendation of a fellow blogger, we left the lodge (and its overpriced buffet) behind to eat dinner at what is perhaps the most authentic Mexican restaurant I've ever experienced. I always try (emphasis on try) to skip the major franchises and find local favorites when I travel (it not only results in a better meal, but usually takes you from the freeway fringes of towns into their heart). At any rate, this time, as usual, we weren't disappointed. It really was delicious, and we were served by the owner herself, who stuffed us with handmade tortillas and whipped Toby up a cinnamon rice milk concoction that was like drinking a cold, thick dulce con leche latte (which is probably because that's exactly what it was).

By the time we got back to the lodge, it was story time in the lobby (more semi-frightening animatronics), followed by pajamas and bed for all. I had had trouble sleeping the night before, but this time? Let's just say I missed my morning workout, and got up just in time for a sleepy walk downstairs to Starbucks before the boys were awake and awaiting their breakfast of cereal and blueberry muffins. We were back in the water park by 9 am, and didn't pry ourselves from the lodge for the drive home until after 2 pm.

As is the mark of any family vacation worth its salt, we're all hovering on the brink of exhaustion (some of us are already well past it, but I won't point fingers, Toby) and will need at least three days to fully recover.

And look at that…writing this entry has brought me 25 miles closer to home. Thanks for the distraction! I'm done just in time to listen in to Fraggle Rock episode #16, You Can't Do That Without a Hat.

Someone save me.


*For a more in-depth review of The Great Wolf Lodge, see this article at my travel site, www.pitstopsforkids.com.