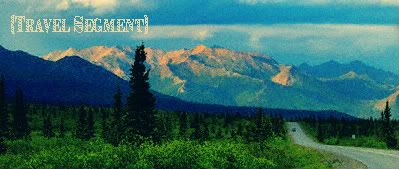 Reporting from The Great Wolf Lodge.

And oh my, is it ever kid-heaven. And that makes it pretty much parent-heaven, too, because if the kids are beaming with joy, you really can't help but join in.

And I'm happy to report that Toby's grouchy streak is over. In fact, all the kids are behaving like dream children, which of course ups our vacation enjoyment yet another notch. (So do the mojitos I bought while stocking up on breakfast foods before arriving, but I suppose that's a given.) The drive from Spokane to Centralia, Washington took much longer than we had hoped, but I did get several great pitstops out of it. (Who knew Seattle had Sunday evening traffic now? Not us, obviously.)

When we did finally ease off the freeway at twilight, I tried to distract the kids from the long drive by recruiting them to 'be on the lookout for the lodge' for me. Turns out, you'd have to be a pretty poor scout to miss it. It's huge, especially considering its modest surroundings of woods and suburbs. I now understand why, when I explained to a friend in Spokane where we were going for the second half of our vacation, he had looked surprised. "Oh, that's a family resort?" he said. "I thought it was an Indian casino." From the freeway, that's exactly what it looks like.

Step inside, however, and you'd never make that mistake. When I arrived in the main lobby to check-in at 9 pm, it was teaming with children. Children in swimsuits, children waving wands (I'll get to that later), children watching an animatronics bedtime show, children eating ice cream, children running, children crying for candy outside the Bear Paw Fudge Factory, or something similar. The whole place is themed like a Pacific Northwest lodge, which shouldn't have been disconcerting considering the fact that, well, we were in the Pacific Northwest. But it did. Maybe that was because we're used to the real deal, and spend our fair share of time in the actual outdoors, or maybe it's because if you're already authentically in a place, you shouldn't have to try so hard to replicate it. But you know what? I like a well-done theme. There, I said it. It may be why I love Disney. In any rate, everywhere I looked I saw exposed log cabin beams and paw prints and cheerful raccoons, and it was no Lake Quinault Lodge (go there, it's gorgeous), and it was no Ahwahnee, but c'mon, no one is expecting it to be.

And what it is, it does well. Our 'kid cabin' suite is perfect for the boys, has a nice gas fireplace, and most importantly, a fridge and a microwave, so we can eat some meals in. By the time we actually got settled in, Toby was ready for bed: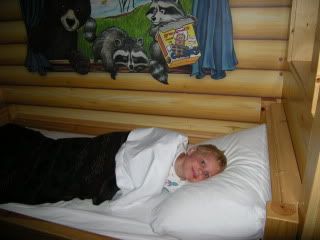 We spent most of the morning at the massive indoor-outdoor water park, and I'll have to get photos of that tomorrow, because I admit to being too busy tubing and letting about 200 kids splash me in the face in the wave pool to get out the camera. I did, however, get some photos of the boys' (meaning, all the boys, and mostly, my husband's) favorite lodge activity: MagiQuest.

It's pretty awesome. Buy a wand and "activate" it (for a bare minimum of $25...that took me a moment to come to terms with, even though the boys paid for half with their own money), and you're off on an interactive quest throughout the hotel, following computerized clues and checking in at various stations (all carefully themed as giant trees and dragon lairs). You (yes, you, not just your kids) race from rune to crystal to pixie to unicorn (no wait…Nate informed me there are NO unicorns, but there are centaurs), solving quests.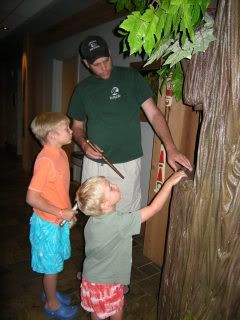 Yes, I know I'm a major dork at heart, but I'm telling you it's fun. And it's exercise. The number of times I've run up and down four flights of stairs? Let's just say I could have skipped my 30 minutes on the elliptical today.

Now, Toby is resting in his kid cabin bed, Nate and Cal are still slaying dragons with their dad, and I'm lounging in front of the (fake) fire, because when we vacation, rest time is important. It's how we manage to keep our kids from being the ones having the massive meltdown on the floor in front of the Bear Paw Fudge Factory.

So far, anyway.