swimsuits and
sandwiches in coolers and
sunscreen sticking to sandy skin and
lakewater and
mosquitoes and
rubber rafts that take an hour to inflate and two to
de
flate and
Otter Pops and
open swim and
fresh-cut pineapple in
fruit salad and
converse and
Kool-aid and
camping and
camp (soccer and theater and science and
Mom stop signing me up for stuff!
) and
bike riding and
bare toes and
Bubblicious (can you believe they still make that?) and
barbequing and
(dare I say) beer and
sleeping outside and
stars and
sugar cones and
fireworks (illegal this year) and
movies and more movies and
time going by so slowly it could melt in your mouth and…
most of all (at least with this family)…
TRAVEL.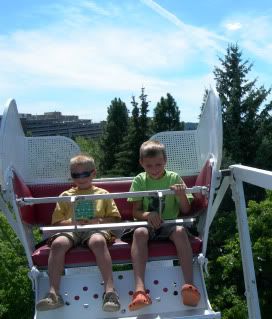 Nate and Calvin in Riverfront Park, Spokane, WA.
For more travel photos, go to
Photo Friday
.
That's right. Travel. So we can have lots of moments of simple pleasure like the one above. Because guess what I was doing, right up until ten minutes ago? No, no, never-mind…you'll never guess, so I'll just go ahead and tell you. I was standing in the driveway, staring down my parents' Prius, which they've generously lent us. Why, you ask? Because I'm wondering how, on this god-forsaken earth, I am supposed to fit two adults, three kids, six bags, three sleeping bags, one cooler, and one tote (with five books, two iPods, one DVD player and six movies) inside of it.
I've never been a spatially-gifted sort of girl, but even I am quite confident it's not possible.
But you'd better believe I'm going to try.
Because early tomorrow morning, we leave for Spokane, WA, where Charlie plays every year in what I think is
the largest 3-on-3 street basketball tournament in the world.
Please don't quote me on that. He's played with the same group of guys for the last 15 years running (minus the year my sister's wedding conflicted…he never lets me forget about that year), and
oh wow does that make me feel old.
Anyway, it's going to be a full weekend of fun and catching up with great friends, followed by another two days of fun at
The Great Wolf Lodge
outside of Seattle, but we first have to
get
there, which is where the Prius comes in. And I know what you're thinking:
Amy, just take the Sienna and pay the extra in gas! It will be worth it not to have bony knees pressed into your back and kids saying 'heeeeey, git offa me!' for nine hours straight.
But did you not read the part about the lodge? In the interest of full disclosure, I don't mind saying we're walking a fine line with our budget as it is, people. A
fine
line. Acrobat-high-over-the-ring-top-with-a-pool-of-underfed-alligators-chopping-below fine.
We're taking the Prius. That's all I'm saying.
But I love travel, even when the car trips seem daunting, and this trip to Washington is just the beginning. We've planned a lot of travel this summer. Nothing terribly far…nothing fancy…but we'll be away as often as we're home during the next eight weeks or so. Look, I even attempted to make a google map with our main stops/trips. (Just zoom out to see all our main destinations.)
View
Summer
in a larger map
That's right, we're going to tour the American southwest in July. (Stop laughing! You know it'll make for riveting reading! What
will
the temperature climb to inside their unventilated Mesa Verde tent cabins? Will Calvin melt into a puddle of despondency and despair as he's wont to do in any heat over 75 degrees? I am seriously considering getting him one of those personal climate control thingies in Shaper Image, or at least
one of these numbers
.)
But in all seriousness, I'm looking forward to all of it. And the good news? Lots of adventures/sights/bad fast food/fights in the car to write about. The bad news? Not very much time to write about them (nor much in the way of reliable internet connection, for much of it). But I'm going to do my best. If you're interested in reading about our summer travels, look for the entries with a "Travel Segment" graphic at the top (you'll know it when you see it). If not, please bear with me, and know that I will be back to posting regular blog entries on a consistent basis once I get everything unpacked for the last time. And the laundry put away of course. And myself unfolded from the Prius.