The Never-True kids are hitting the road! I really have no business being online right now, because in less than an hour, we leave for our great yurt camping adventure on the Oregon coast that I wrote about in
Reflectology
last week. We're all packed, I'm prying the cinnamon rolls meant for tomorrow out of Nate's greedy hands, and Charlie is currently playing the game we like to call how-to-fit-all-this-junk-in-the-car. And how pumped am I that the forecast now calls for 'overcast with 30% chance of rainshowers' instead of 'Noah's flood had nothin' on us'?
Pumped.
When I checked the campground website this morning, I noticed that it's fully booked.
Fully booked.
Who are all these people camping in March? I thought we were the only crazies. I suppose, however, that most of our fellow campers will be in RVs. The RV-world is foreign to me. See, we're backpackers. As in, "Kid, here's your pack. Now hike five miles that way. No whining." We love it, so even 'car camping' in a yurt feels somehow too easy, like we're cheating. (We'll see if I change my mind if we get three solid days of rain.)
But we're prepared for anything. I have not one, not two, but
three
pairs of knit gloves for each kid, in case it really is miserably cold and the first and second pair get soaked/fall in the creek/get dumped in the ocean. Everyone has their rain boots. Everyone has their rain jacket. Everyone also has shorts and swimwear. We have board games and scooters and wood to make boats to float and kites. And homework packets. And books. And movies. My brain hurts from the packing process.
In other news, Calvin lost a tooth last night. Tucked under his pillow for the Tooth Fairy was the following note: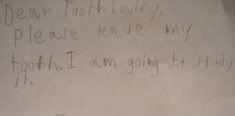 Um,
study
it? Tell me the truth: my children are weird, aren't they?
But I have no time to worry over it. I have one last load of dishes to put away and beds to make. (Does anyone else need the house clean before they leave, just so that when they return in utter exhaustion, they don't burst into tears? Just me, then?)
Brace yourselves for a full report on yurt camping upon our return. (And for goodness sake, call the authorities if I'm not online
somewhere
by Friday.)